2022 Begins with Higher Personal Lines Rate Increases
Homeowners and Personal Article Rates Increasing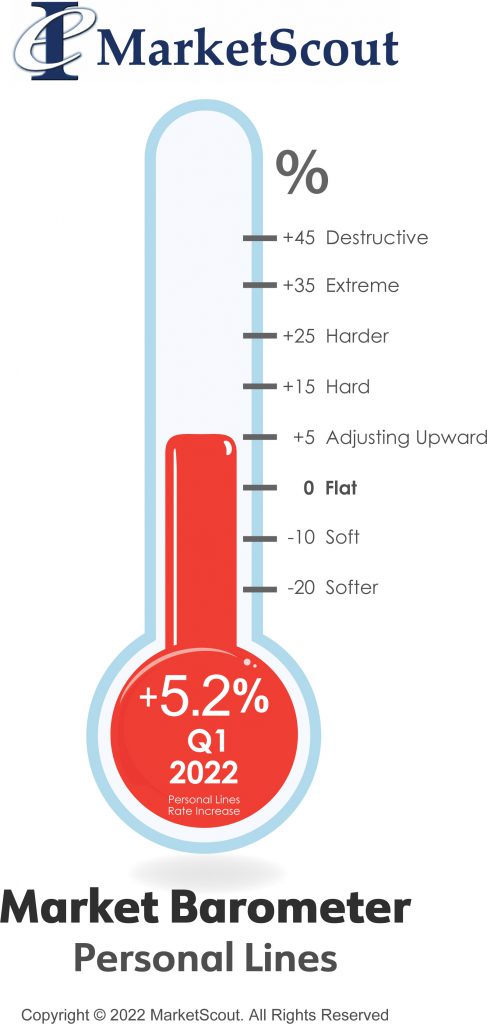 Rates for almost all homeowners across the US increased in the first quarter of 2022, regardless of the geographic location or value of the home. For homes below $1,000,000 in value, rate increases of 5.3 percent were assessed in the first quarter of 2022 as compared to just 3.7 percent at the end of 2021. For the large homes over $1,000,000 in value, rates also increased from plus 6.3 percent at end of 2021 to plus 7 percent in the first quarter of 2022.
Personal articles rates are increasing as well with an increase from plus 3 percent in Q4 2021 to plus 4 percent in Q1 2022.
Personal auto rates were relatively stable at plus 4.3 percent in Q1 2022, just a small increase from Q4 2021.
Richard Kerr, CEO of MarketScout outlined, "We expect homeowners rates across the US to continue to increase. What used to be considered relatively benign catastrophe prone areas of the US are now experiencing more and more claims. Further, several major insurers are dramatically cutting back their appetite for tough to place homes. This will impact the availability of coverage and result in significant rate increases or coverage restrictions for many homeowners whose insurer will issue a notice of non-renewal. MGAs and brokers are scrambling for capacity. The exit by these insurers will accelerate the formation of new capacity providers and insurers. In the meantime, rates are going to increase considerably for the tough to place homes; perhaps as much as 35 percent."
The National Alliance for Insurance Education and Research conducted pricing surveys used in MarketScout's analysis of market conditions. These surveys help to further corroborate MarketScout's actual findings, mathematically driven by new and renewal placements across the United States.
A summary of the first quarter 2022 personal lines rates is set forth below.